Looking to be a Goddess of the Sea on your next beach holiday? Swimwear can be as colorful, styled, trendy, and diverse as any other part of our wardrobe. To match your body type with the perfect design that accentuates all your assets, take a look at Sheer's swimwear styles guide handpicked by the team.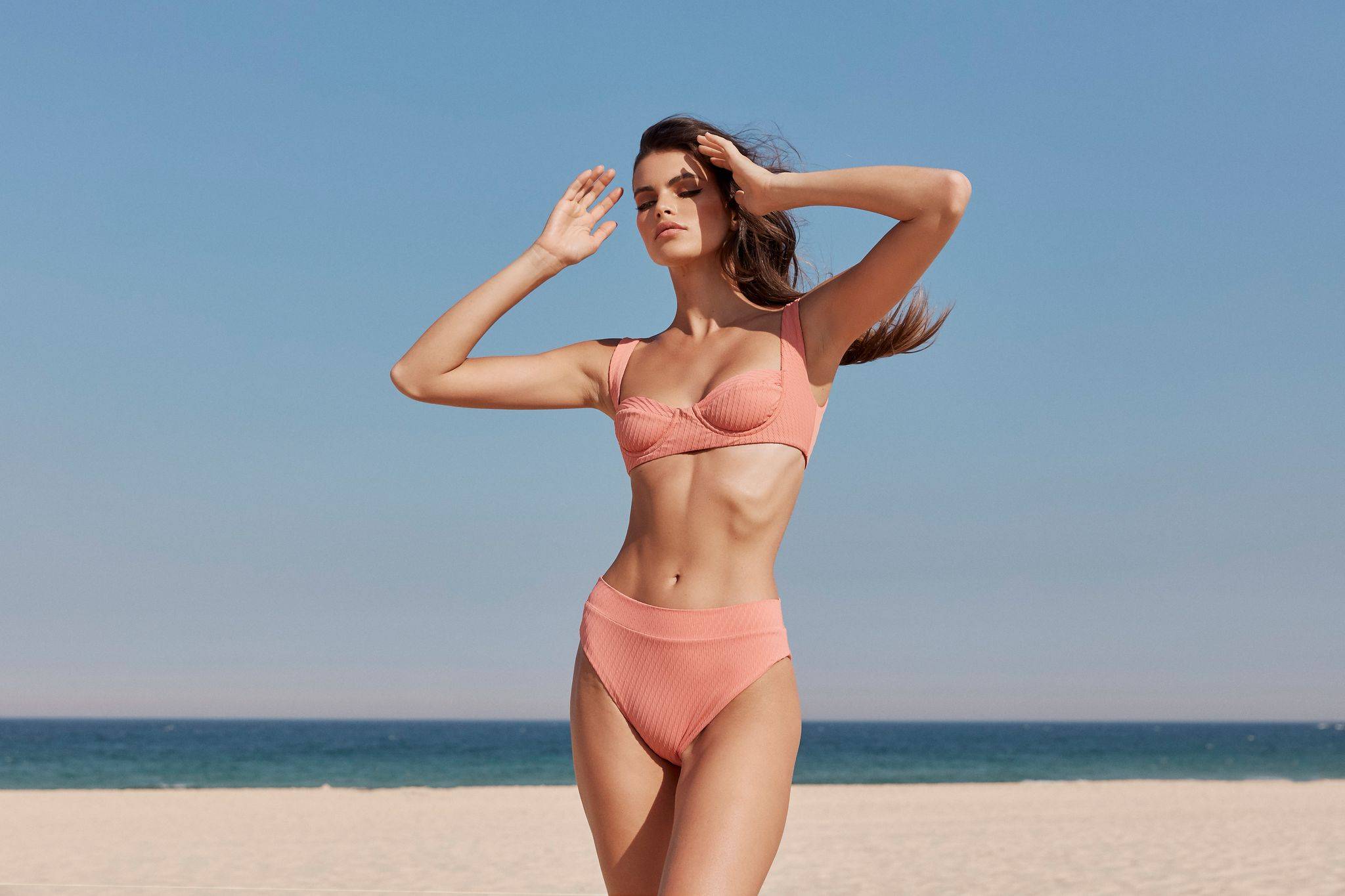 Bandeau tops have always been a great option for those who want to go strapless and show off their well-toned shoulders. In swimwear, bandeau swimsuits have the added benefit of eliminating unwanted tan lines.
The Eberjey Swim So Solid Summer Bikini flaunts clean lines in a black shade with their bandeau top paired with a high-waisted bottom displaying a cheeky cut. Perfect for those looking for a simple design in a flattering fit and color.
Another solid color option is the Marysia Antibes Bandeau Bikini available in a soft pool blue color. With dainty scallop trim and boning details, this swimsuit gives an effortless chic look most suited for those looking to show off their well-tone shoulders and abs.
If you're looking for something to spice up those summer days and nights, Paolita's Phoenix Amarey Padded Bikini comes in an eye-catching orange and teal aviary pattern. The bandeau bikini is tied at the back and comes with removable shoulder straps if added support is required or removed for your tanning needs.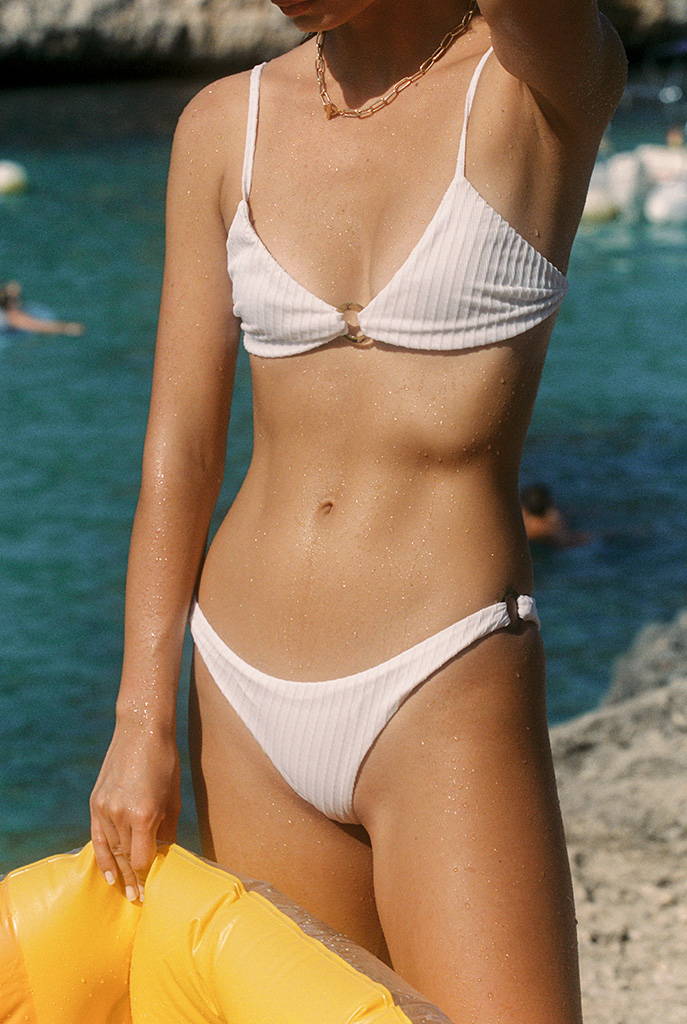 Triangle swimwear with its characteristic plunge neckline will flatter every body shape from those with a fuller silhouette to those who are more petite.
Fella's Kane Padded Triangle Bikini provides minimal coverage for those daring to bare it on the beach, or alternatively as an ideal choice for a tanning session. The padded and wireless triangle top and matching low-rise, cheeky coverage bottom are both accented by tortoise-colored rings for a touch of the exotic. 
Another Fella favorite is the Alfred Padded Plunge Bikini that is inspired by a retro 80's athletic style. Particularly flattering for larger bust due to its thicker shoulder straps and modest coverage in both the top and high-waisted bottom, this triangle style swimwear is perfect for those looking for a demure bikini.
Marysia is back with their signature scallop trim, but this time in their Santa Clara One Piece suit. Available in solid white or black, the triangle plunge top is supported by a band underneath the bustline that finishes in a bow at the back along with a revealing cutout. This youthful and pretty swimsuit is best suited for petite body types looking for a triangle top to enhance their bustline.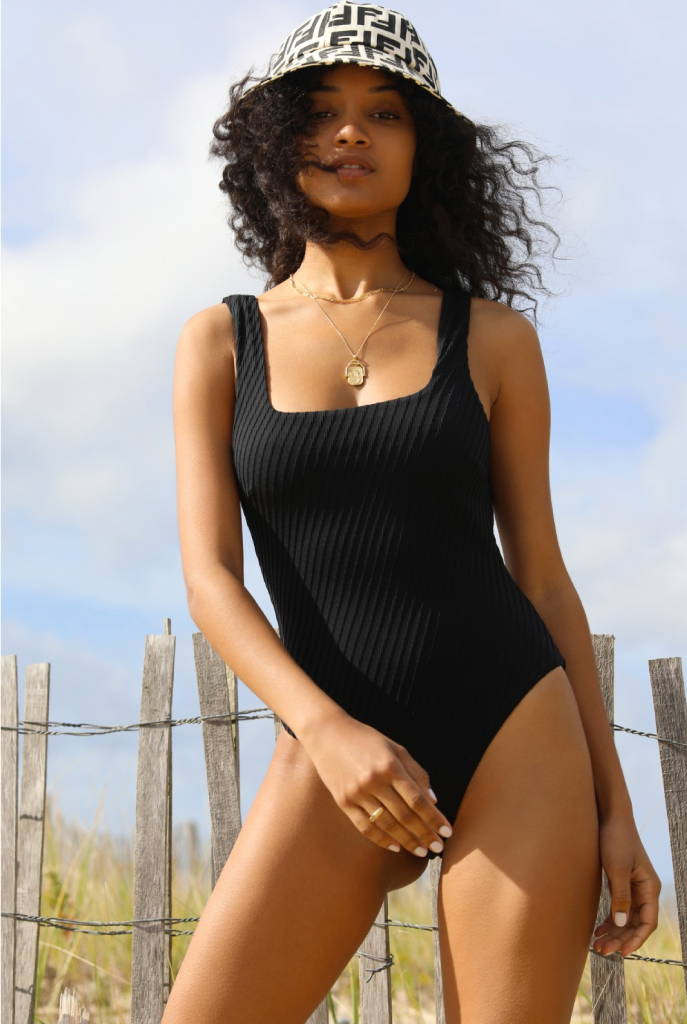 Keep up with the latest fashions and be seen sporting a square necked swimsuit this summer. Flattering for all body types, this neckline highlights a women's collar bone and who doesn't have a beautiful collar bone, right?
Polished, sleek and modern, Fella's Harvey Specter Padded One Piece swimsuit lives up to its name. Versatile enough to be worn as a bodysuit for a casual day-to-night wear, this square neck one-piece swimsuit adds a chic twist with a low scooped back.
Evarae's Row Square Neck Padded Bikini is perfect for those looking for clean, simple lines in a sportier bikini. A square neckline top with adjustable straps that is pulled on overhead gets rid of fussy clasps. Paired with a medium rise bottom with modest coverage, this bikini is ready for all types of water sports activities. Available in 3 color choices, the classic black is distinctly stylish with thinner straps, and the refreshing white adds two-toned, subtle olive-green strap details. Finally, for a pop of color, this bikini also comes in a terracotta and sand color combination dressed up with a high-waisted full coverage bottom styled with a ribbon tie at the hip.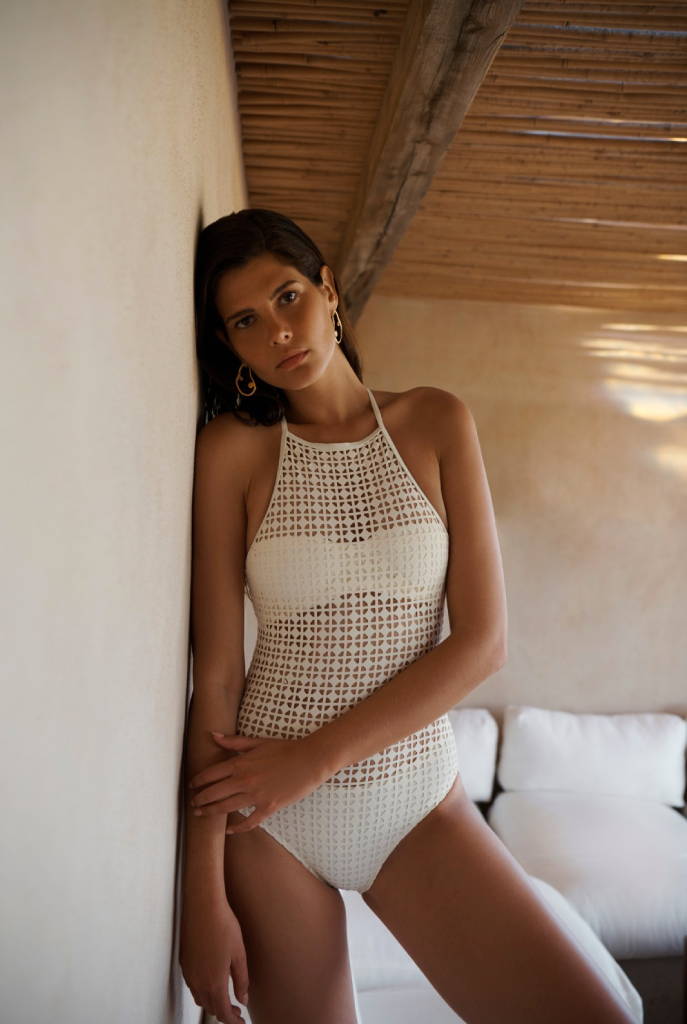 Have a sexy back and want to show it off? Try these one-piece swimsuits to see which cutout area highlights your silhouette the best.
Evarae's Iola Cross Back Padded One Piece looks like a work of art. Made from sustainable fibers laser-cut into a diamond pattern, the flattering high neck and cutout in the lower back provides plenty of eye-catching allure without revealing too much. Cross back straps and lining in just the right places completes this discreet yet visually appealing one-piece swimsuit.
Eberjey Swim's Alta Mare Ibza One Piece is made of lightly ribbed material which is SO on trend this summer. Flirty and fun, this one-piece has a side cutout that shows off well-toned abs, waist and lower back. Modestly cut in the bust and bottoms, and featuring a one-shoulder ribbon tie, this is Eberjey's stylish answer to a one-piece swimsuit.
Evarae's Elsa Asymmetric Padded Side Tie One Piece creates a beautiful hourglass shape thanks to its two-toned design. Solid black on both the bust and bottom, a curvy silhouette is achieved by the sand colored panel tied at the waist. The additional side cutout located in the high waist (usually the skinniest part of a women's torso) further enhances the hourglass silhouette.
Swimwear styles can be as diverse as our body types. Whether you are looking to emphasize your bustline, hone in on your toned waist, or draw the eye to your long legs, these various swimwear styles can advertise those assets for you.  
---
Our team at SHEER can give you the best bra-fitting service in a fun, supportive, and non-judgmental surrounding.
We can help you build your bra wardrobe so that you can be sure each bra you have is bringing out the best in you.
---